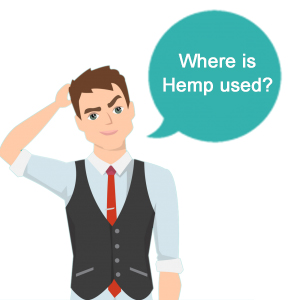 Used to make rope and cords due to great tensile strength

Nutrition – Hemp Seeds are a rich source of nutrients, the seeds can be eaten raw and or used to make milk, oil, cheese or protein powder.

Cosmetics – Hemp seed oil as used as an emollient and to supply skin with omega fatty acids it needs to replenish itself and strengthen it's surface against moisture loss.

Medicine –  Vast application in numerous products from pain management, stress relief, sleep improvement, e.t.c

Used to make shoes of good comfort and durability.

Hemp fuel: Biofuel, form of cellulosic ethanol.


Hemp Crete (mixture of hemp and lime): Used as a material for insulation and construction.

Used as substitute for plastic and is currently used in Legos, car parts, and body armour.

Used in textiles and clothing is one of the most common ways to use it.

Paper can be made from either the long bast fiber (hurd) or the short bast fiber (pulp) of the hemp plant.