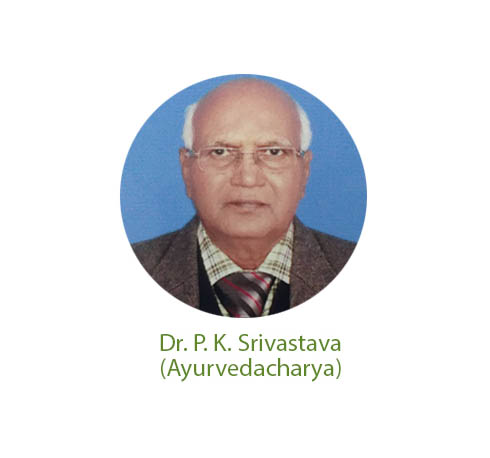 Dr. P. K. Srivastava (Ayurvedacharya)
B.Sc., G.A.M.S., F.N.A. (Govt. of India)
Ex. Technical Expert- MAPPL (N.S.E.Z) Noida
Ex. Senior Physician – MIMS Shalimarbagh (New Delhi)
Expert in Pulse Diagnosis (Nadi Nidan)
VISITING CONSULTANT : Maharishi Ayurveda International Services, USA, England, Holland, Russia, Germany
Dr. Promod Kumar Srivastava is a Ayurvedacharya with more than 45 years of collective experience. He has been a working and teaching in this field in India and many other countries, for more than 20 years he has been a visiting professor at the Maharishai Vedi University, U.S.A, England, Germany, Holland, Austria and many other countries. He has been a technical expert for companies guiding them in formulations and product development. He has worked extensively in the field of Ayurveda helping countless number of people through his practice and also spreading the knowledge of Ayurveda. He has been a pioneer in representing Ayurveda outside India and has successfully done it for more than 3 decades.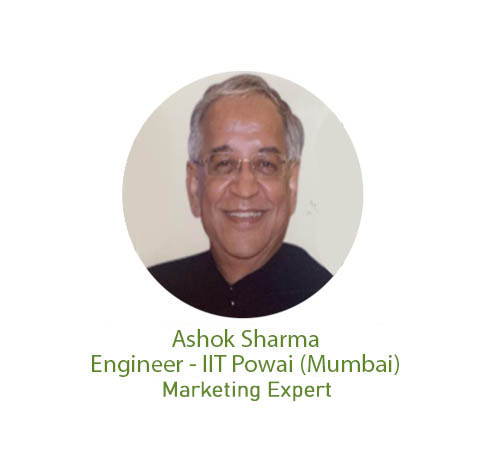 Mr. Ashok Sharma is an engineering graduate from IIT Powai-Mumbai with over 45 years of professional experience spanning Management, Business and Consultancy His corporate experience covers MNC…. Union Carbide and IBM. He was Executive Director & CEO of Asian Electronics Ltd, a public listed Indian company, well known nationally, in the field of energy conservation products covering lighting and electrical capacitors. He started his own Marketing and Management Consultancy Firm four years ago. Mr. Sharma's core competence is in Marketing. He was successful in creating a nationwide Distribution Network for Asian Electronics Ltd, from scratch, and which today is well recognized in terms of organization, policies and practices. He successfully steered the company in establishing its brand image and a leader in product positioning. His firm represents both foreign and domestic companies. It offers consultancy in marketing strategies, introduction and launch of new products, creation of Channel Partners and Distribution Network, and building up corporate / product brand image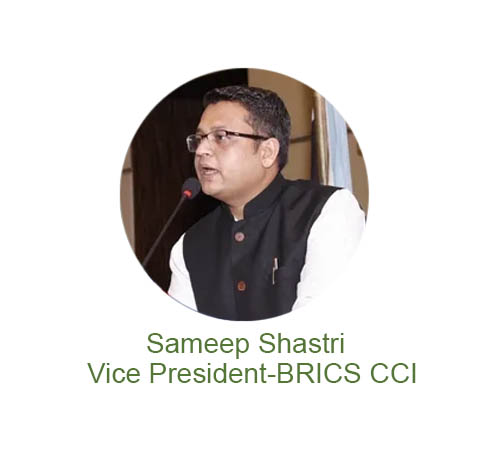 Sameep ji is the Chairman at the Indian Institute of Governance and Leadership (IIGL) and the President of the Confederation of Young Leaders (CYL), Vice Chairman BRICS CCI and President BRICS CCI young leaders. Sameep Shastri ji is a Social Entrepreneur, an Institution builder and a youth leader whose words and work in the field of public service are inspiring a generation. Sameep ji is a columnist for several reputed journals, dailies and magazines. His efforts towards Swachh Bharat, SDG and other initiatives have been recommended and acknowledged by our Honourable Prime Minister and many Union Ministers of Government of India and other prominent organisations. In addition, he serves on the Advisory boards of several prominent organizations and institutions. He is listed among India's most influential youth with a lot of Indian and International Awards honoring him for his work. Sameep Shastri ji sees immense potential in the hemp industry in India and is always forthcoming to help and advice upcoming startups to achieve their goals through his immense experience in mentoring young leaders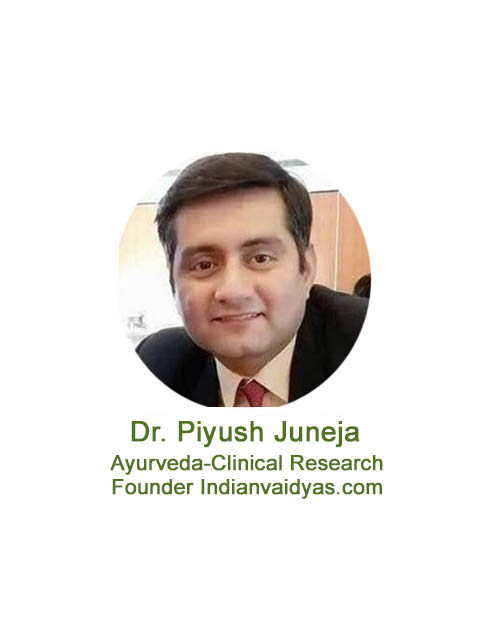 Dr. Piyush Juneja is an expert in the field of Ayurveda and has experience of over 15 years in this field. He is currently a practicing Ayurveda Physician, Certified Medical Cannabis Practitioner, Founder of Indianvaidyas.com(Fastest Growing Platform of Ayurveda) and also a consultant to several national & International organizations for Clinical Trials, Medical Cannabis, R&D, Business Development, Regulatory Affairs, Digital Marketing, Contract Manufacturing. He graduated in Ayurveda from Gurukul Ayurvedic Medical College, Haridwar, one of the oldest college in India. He also did Post Graduation in Clinical Research and MBA Project Management. He is a very successful practitioner across the country with thousands of patients treated to date and around 1Lac+ Followers on his Facebook Page. He is a Member: Board of Advisors for the Canadian Association of Ayurvedic Practitioners. Dr. Piyush has held various positions and was responsible for the management of clinical trials, regulatory affairs, research & development at Glaxo Smith Kline Consumer Healthcare(GSKCH), India; BioMed, Canada; Max Neeman International, Catalyst Clinical Services Pvt, Bioinnovat Research Services Pvt. Ltd. Effectively managed various diseases by Ayurveda Treatment and Therapies like Infetility, Pain Management, Skin Disorders, Digestive Disorders, Gynaecological disorders, Renal Calculi, Sexual Problems, all lifestyle-related problems in children and adolescents. Dr. Piyush has presented many papers at various seminars, has been a speaker at various workshops, and also published articles in many journals. He believes that the world is again starting to accept Ayurveda as this is the oldest field of medicine and it treats all the diseases and ailments from the roots without any side effects. He is committed to promoting Ayurveda and his vision is to see each and every individual incorporating Ayurveda into their fast-changing lifestyle to bring long term stability.